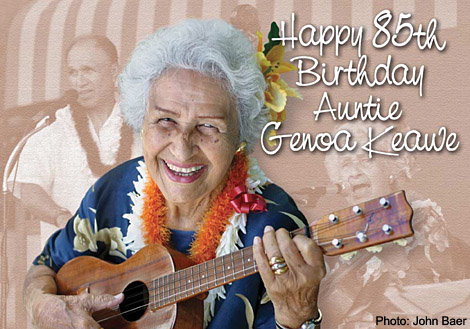 World renowned Hawaiian entertainer Auntie Genoa Keawe.

A Legendary Hawaiian Performer

By:Kathryn Drury
Oahu Island News

Despite her years, traditional Hawaiian vocalist Auntie Genoa Keawe still boasts a voice as clear and sparkling as spring water. She'll grab hold of an impossibly high note and then, when you're impressed by the mere fact that she hit it, she'll effortlessly hold onto it – lifting overhead a crystal orb of pure song – for what seems like five minutes. Few artists have laid claim to Hawaiian music as completely as Auntie Genoa has and after 70 years in the business, she's as respected and beloved as royalty. On Oct. 31, this Halloween baby celebrates another milestone: her 85th birthday.

When I met Ms. Keawe for our lunch interview, she emerged from a car sporting "GENOA" license plates. She's gracious and small, with beautiful caramel skin, fluffy gray hair and a touch of begonia-pink lipstick. Just as she has wooed audiences for decades, she has obviously also charmed the staff at the Waikiki Beach Marriott Resort, where, for the past 9 years, she has performed weekly. They open doors for us, usher us in and stop by to kiss her hello.

Did you listen to music as a young person? Was there a radio or record player in your home?

No, but I had an older sister who sang. Every time she sang, I'd listen to her and she'd sometimes say, "We have to sleep this afternoon, because we're going to a concert tonight," and we'd take our hymn book and go. She'd try to teach me to sing the lead part of a song, and I'd learn it, but then she'd take the alto part and I'd start following her on that. She'd say, "Don't follow me! Sing your part!" She'd sing me to sleep.

Did anyone teach you how to sing? Did you have to study music?

This is a gift. I prayed to Heavenly Father every night: "Let me sing and make people happy. If You give me this gift, I will sing for free." It's a gift and I want to share it, to give it freely to the world. If someone is making money off me, then I will charge them, though.

You're originally from the Kakaako area of Honolulu. I read that you were born in a stable; is that true?

No! Some parts of that area were used as a storage area for hay and straw for horses and cows. But I was born at home. My mother was her own midwife.

In your early music career, you supplemented your income by working as a taxi driver. Were you the only woman doing that?

No, there were others. It was so much fun being a taxi driver; I met lots of people. This was in the war years [World War II]. The soldiers were all really nice and very respectful of me.

You had 12 children. You must have started young. How old were you when you married your husband, Edward?

I was 16. I met my husband in church – he was a musician, too. My children were always well-taken-care-of, even when I was juggling music, because I had nieces who looked after them. And the older children helped take care of the younger ones.

Can you explain the concept of "chalangalang?"

It's a special kind of music. It's playing as a group, at home. You know, spontaneous, with your family. You just play anything that comes to mind. You say, "How do we play this song?" because if you don't know, they'll teach you.

I've read that you give thanks to John Almeida for giving you a start, because he invited "anyone who can sing" to come onto his radio show on KULA, and you went in and performed. Were you nervous singing live on the radio?

I wasn't scared. I was confident. In school, every Friday, someone would have a solo. I always sang "For You A Lei," so I was used to singing in front of people.

I understand that your husband's mother spoke Hawaiian as her first language and taught you, so you are able to sing in both Hawaiian and English. Has your language phrasing changed over the years? No. But if I had been singing something one way and I'd find out it was wrong, then I would correct it. Some of the younger artists have a hard time pronouncing Hawaiian words.

I think you're best known for your falsetto vocal styling. In American falsetto, singers try to hide the point where their voice changes register, to make a smooth transition. But Hawaiian falsetto reminds me of shifting a manual transmission on a car. Singers stress the "break" in the voice as it pops it into a higher register. Can you explain how you do it?

When I was a girl in school, there was this song that went, "My name is Yankee Doodle …" and there's a part that goes, "doodle-ee doodle-ee doo" and I got to yodel that part. I just loved it. No one else was doing it; I just practiced. The yodel part is the same thing as falsetto.

"Hear?" she says, breaking into a yodel over her chopped-chicken salad. "It doesn't hurt my throat. I did it in Switzerland and they loved it. But I can sing lower if I want to."

When you perform, you smile the whole time; you're like a ventriloquist! How do you smile, and more importantly, how do you breathe, while singing? How can you sustain a note for as long as you do?

Well when I sing, I'm smiling but my mouth is open. First you inhale, and then as you sing, you exhale. You hold the note by exhaling very slowly. People say I've got big lungs, but that's not it. It's control, voice control. Just like volume.

Some singers find their voices change as they mature. Have you found this to be true, and if so, what effect has it had?

No, my voice is the same. It's still a gift. I heard a lady sing, she was 87. And her voice was so pretty, prettier than mine, and I was so happy to hear her sing. And I also heard a singer in her 90s; she had a young voice. People ask me when I'm going to retire, but as long as my voice lasts, I'm going to sing.

You've been recording since 1946, first on the 49th State label and later on Hula Records. In 1966, you started your own company, Genoa Keawe Records. Why?

I wanted to control my own music. People weren't paying me the right amount that I deserved. I once went to New York City with $10,000 in my purse to record my own record. They said, "Genoa, thank God you didn't get mugged!"

How did "Alika" become your signature song?

It's the high notes. It's sort of a showcase. I just hold a note as long as I feel like it. If I feel good, it's longer. My granddaughter said she was going to compete with me how long she could hold a note, and I was like, nah! She likes to sing, but she likes show tunes. She's not interested in Hawaiian songs. Gary (Keawe Aiko, her son, who often accompanies her on the upright bass and sings) is the only one who studied it and went on to perform as a musician.

Do you surf?

I don't surf! Music kept me too busy; I don't take vacations. It's all music.

You have a huge repertoire, singing and playing your ukulele to traditional songs in Hawaiian as well as hapa haole music. How has the Hawaiian music scene changed over the years?

Different people like different styles, and there's a range. I like hapa haole because people understand the words.

You've been honored with the National Heritage Fellowship, presented by the National Endowment for the Arts – the highest honor the country can give to a traditional artist. And you've won many Na Hoku Hanohano awards. Two years ago, you were inducted into the Hawaiian Music Hall of Fame. What are your goals for the future?

It's all right to be popular but you have to be humble. You don't sit up there on stage and think you're better than all the rest of the people. I try to share singing with others, to teach others. I want to share the gift; I don't want to take it to the grave with me. I wouldn't do anything differently in my life. I like the way I did it.

As we were leaving our lunch meeting, a gentleman seated at a table near us flagged me over. "Who is that?," he asked, curious about the interview. "Was she a singer?" "No," I answered. "She is a singer."

You can hear Genoa perform every Thursday evening from 6 p.m. to 9 p.m. at the Waikiki Beach Marriott Resort. Grab a mai tai, order some sashimi, and enjoy the ocean view while listening to one of Hawaii's living legends.

Also, on October 24th there will be a special birthday celebration for Genoa Keawe at the Hawaii Theatre Center, 1130 Bethel Street. Tickets and more information can be obtained by calling 528-0506.